Home Automation in Dallas
Imagine this – after a long day, you head to bed and simply press a button to lock all doors, lower the window shades, set the thermostat to a cooler temperature, and turn off all the lights in your home. All of this without ever having to leave the comfort of your bed. This is the magic of a Smart Home, and WH Smarthome is the best home automation company in Dallas to make it happen for you!
With Home Automation, your entire home can be connected and controlled with the touch of a button or a simple voice command. WH Smarthome brings all your systems and devices together, making your life easier and more comfortable.
From adjusting your lighting and temperature to controlling your security system and appliances remotely, we have the expertise to make your Smart Home dreams a reality.
Don't settle for a disconnected, outdated home. Upgrade to a fully connected Smart Home with WH Smarthome today! You deserve it!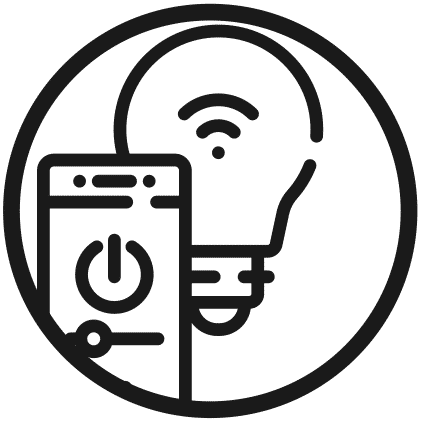 Lighting is an important part of your home automation system. Whether it's setting a timer on your front porch lights to turn on when you need them or setting mood lighting with just a tap of your finger or sound of your voice, Dallas's best lighting automation provider will have you one tap away from total lighting control.
Let us help you control your whole house lighting with just the touch of a button.
WH Smarthome uses the latest in Smart Home Automation Technology to open a nearly endless range of lighting possibilities. We'll help you save money while creating a safer and more secure home for you and your family.
Contact WH Smarthome today for all your home automation lighting questions.
Motorized window shades are an important part of any home automation system. They allow you to automatically adjust the amount of light coming into your rooms based on the time of day, or your needs. Automated window shades help protect your home from the sun's harsh rays while providing soft light to complement your smart home. 
Going from room to room, manually adjusting each shade, is a thing of the past. Control each shade from a central console or right from your phone with just the touch of a button.
Combine lighting and window shades for even more control on the perfect ambient atmosphere for your Dallas area smart home.
Contact us today, for more information on the best home automation provider in Dallas!