What is Whole Home Audio and why you need it
Have you heard  the term "whole home audio" but you are not exactly sure what it means or how it applies to you and your home or do you love to listen to music all the time, but still use earbuds at home? Read on as we breakdown the elements needed to get the best music experience in your home
The right equipment for audio depending on your situation
If you are in your car during a long commute, you may have a good quality sound system in your car; If you are working out at the gym, or out for a run you may use earbuds; if you are listening to it in a dedicated listening station this might look very different, with high end speakers or headphones.
Having the right equipment for the activity you are doing allows you to enjoy the music at its best. You probably wouldn't want to use a portable speaker at the gym and crank it up to listen to your song over the noise in the room, not to say you'd probably be kicked out for disturbing the other patrons. Well, your home is no different, you need to have the best setup for the goal you want to achieve.
There are endless options when it comes to playing music in your home, it could be something as simple as your laptop speakers turned up, or a portable Bluetooth speaker, or maybe speakers throughout the home. Each one has its own advantages and disadvantages, but it's important for you to know what they are and what they offer so that you can decide what the best fit is for your lifestyle.
This seems like a decent setup, but let's look at it a little closer. First, you'll only be able to turn the volume up so much before you get a horrible sounding attempt to music due to the speaker limitations (again, some will do a better job at this than others). Second, you'll depend on your phone being in close proximity to the speaker, if you get a call, or move too far, the audio will be interrupted. And last but definitely not least, the audio will sound OK for whomever is closest to the speaker, but as you move away from it, you won't be able to hear it as well, unless you turn it up some more, and then we start running into issue number one; So imagine entertaining a bunch of your friends in your home, everyone happily chatting away while you have your speaker playing something. Some of your guests (those farthest away from the speakers) won't even realize there is music playing, while some of them will have to raise their voice to try to get the rest of the people to hear what they are saying. This will soon create a less than optimal gathering experience for your guests, and no one will really get to enjoy the music nor the conversation.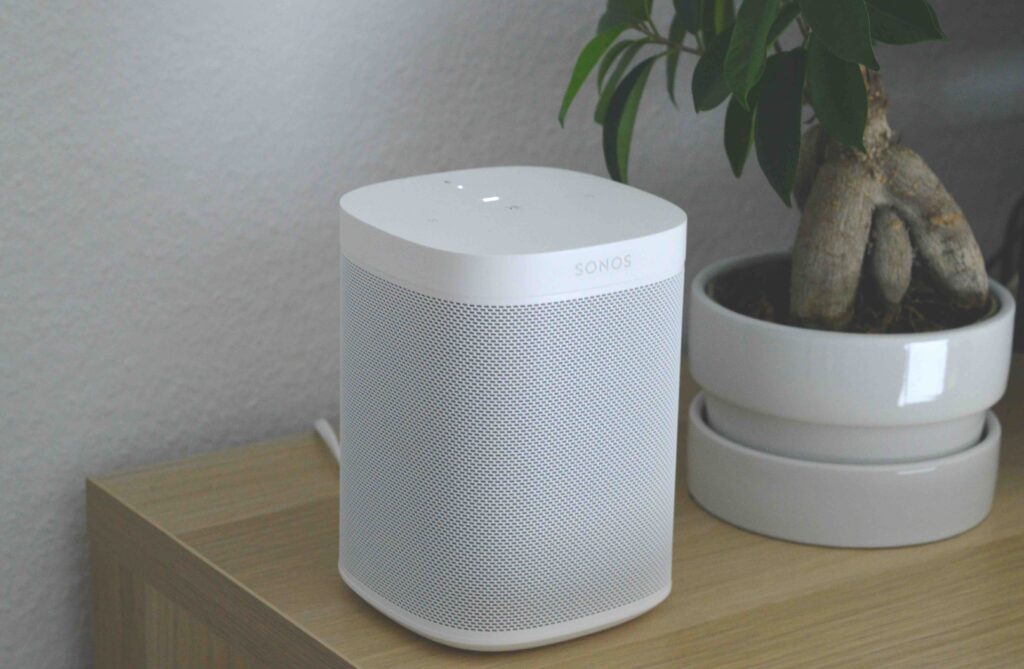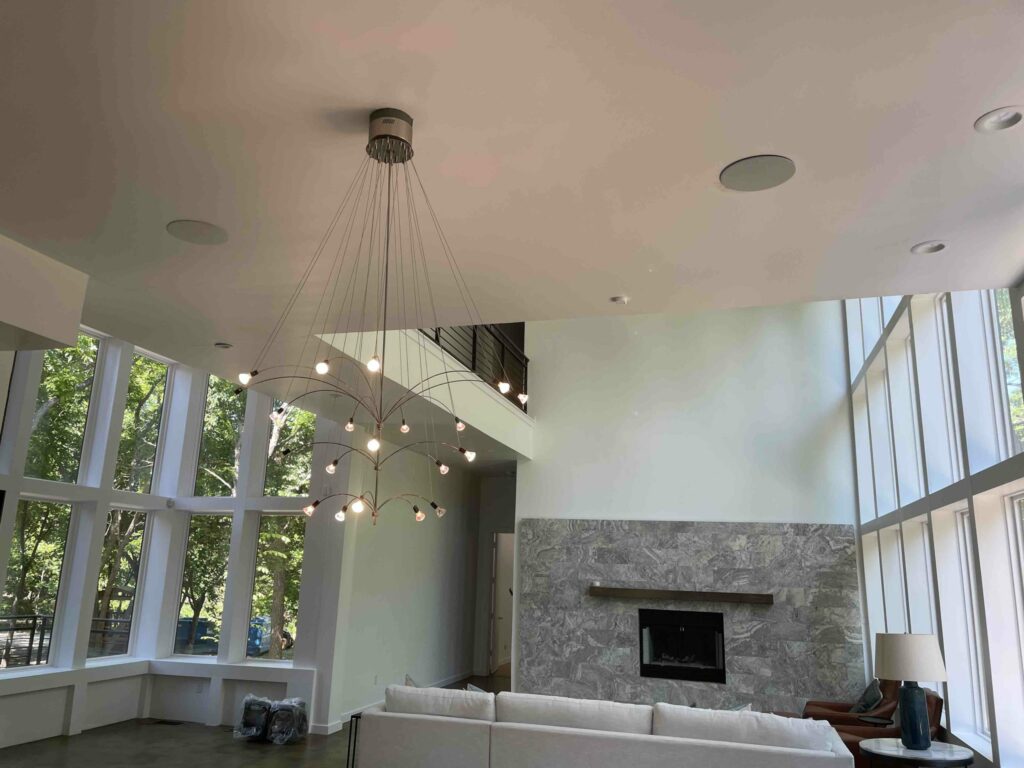 So, what could you do if you want to have a gathering where everyone can listen to the music and not have to speak louder just so the rest of the people can hear them? The ideal answer is to have several speakers that can be playing at a much lower volume so that everyone is close to one. This can be done in multiple ways, you could start by simply adding more Bluetooth speakers (some of them can be paired to play at the same time), or you could consider a professionally installed audio solution, where you'll have speakers strategically placed throughout the room (or whole house). This will allow you to play music in the whole room without having to turn the volume up! Now everyone in the room will enjoy background music that they can actually hear. This same solution can be installed in every room of the house, making it a whole home audio system. This allows you to enjoy your music in anywhere in your home.
Now let's break down the elements in a whole home audio system and identify what is needed for it to work. Keep in mind, it's always best to consult with a professional to determine the best solution for your needs, listening experience and your home.
The first and most obvious component you'll need are speakers. There are endless options when it comes to choosing your speakers, so you'll have to identify what you want from them, and what your budget is, then you'll be able to pick the perfect pair. When it comes to picking your speakers, a professional will typically ask what kind of music you are likely to play, the size of the room, how you use the space (do you entertain there or just maybe sit down and read on your own) and find several options that fit into your needs and budget.
Once you have the speakers, you'll need an amplifier to power the speakers and send the music to them. This is critical, as making sure you have the right amplifier for the speakers you chose, as well as the features you are looking for will make sure the design is sound and does exactly what you are looking for. When it comes to amplifiers you have quite a few options as well, but a few key questions you'll need to know the answer to are:
–       How many rooms (zones) of audio do you want in your home.
–       Do you want independent control of each zone?
–       How many different streams of music do you want to play at the same time? For example, play one thing in the patio, while someone else is listening to a different thing in the master bedroom.
Answering these questions, in addition to the speakers you have selected, and the room requirements (size, distribution, location, etc.) will allow you to properly choose and pair the best amplifier for your home.
As you are selecting the amplifier, one more variable you need to think about is what sources of audio do you want to have available? For example, do you always stream your music online? Do you have a large CD collection you want to be able to play in your system? Do you have a turntable you want integrated? Some amplifiers have limited inputs, others can incorporate many more, so depending on what you want to play, you'll need to think about this to ensure your selection has the inputs needed for all your players and devices.
The last thing to think about is the user interface. Don't ignore this part, as it is very important. The user interface will be your interaction point to the system, so if it's not easy, or you don't like it, no matter how good your speakers and amplifiers are, you won't enjoy playing music in it. Make sure it's easy to use, accessible to everyone who needs to play music, and looks great to.
Here are some important things to think about when it comes to choosing the right interface:
–       Is it friendly and do you like the way it looks?
–       Is it available for all phones/tablets, or is it limited?
–       Are there more ways to interact with the system other than your smart phone?
–       Can you add touch panels or keypads thought your home to ensure you always have easy access to the music?
As you can see there are many elements to consider when it comes to designing a well-planned audio system for your home. If you are unsure about any of them, or need advice always consider hiring a professional. Installing a home audio solution is a great investment when done properly but can be a pain if it's not done right.
If you are thinking of a whole home audio solution, contact us and schedule your free consultation